Nonwovens Industry Magazine is a prominent and influential publication dedicated to the nonwovens industry. This specialized magazine serves as a comprehensive source of information, insights, and updates for professionals and businesses involved in the nonwoven sector worldwide. Through its comprehensive coverage, market insights, and emphasis on innovation and sustainability, the magazine plays a vital role in shaping the discourse and progress of the nonwoven sector on a global scale.

As a reliable partner of the global nonwovens industry, AZX has been listed in Nonwovens Industry, a well-known magazine in the global nonwovens industry, in 2023.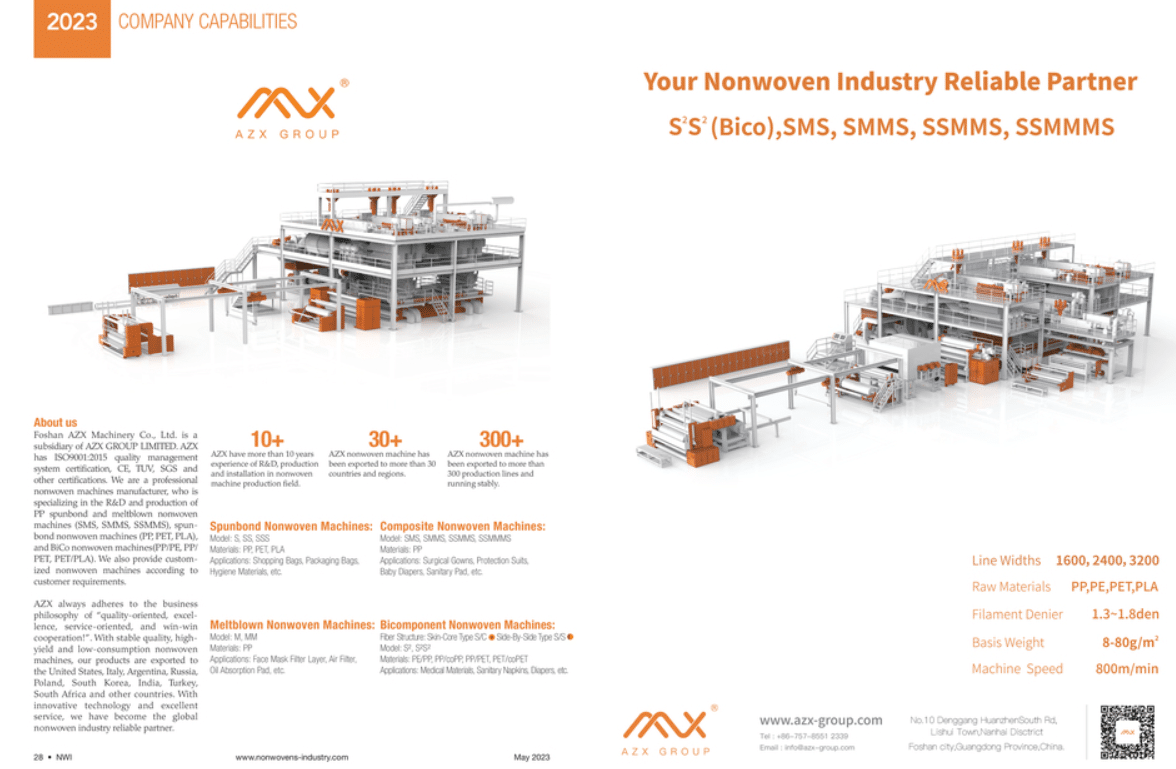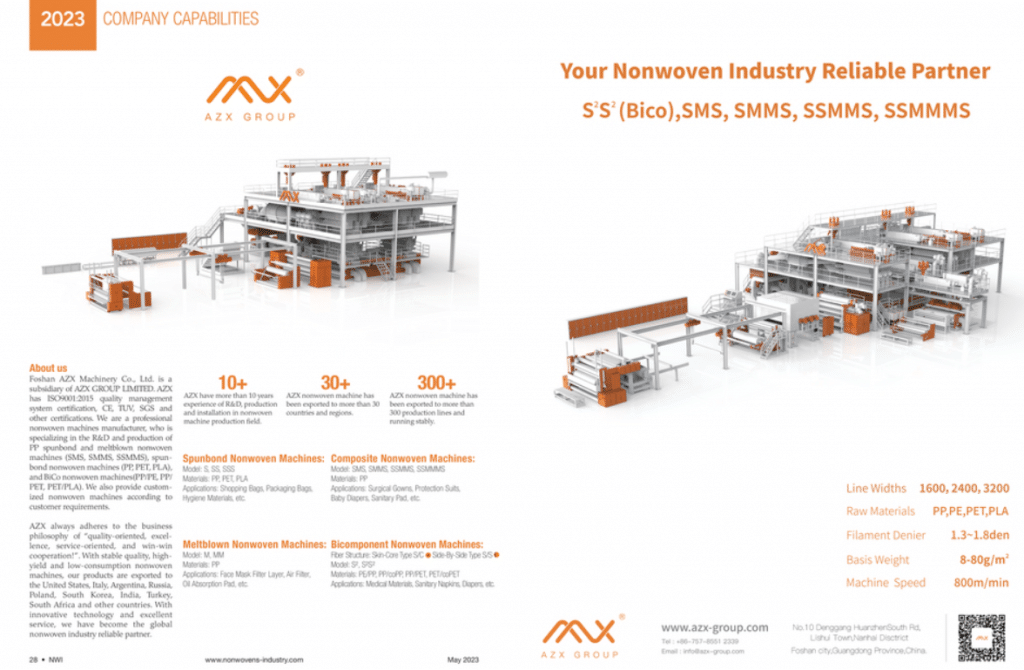 You can click on the corresponding month to view the magazine of the corresponding month.
AZX's bicomponent spunbond nonwoven fabric production solution is set to revolutionize the industry. This technology involves the use of two distinct polymers, each contributing unique properties to the final fabric. The result is a fabric with enhanced strength, durability, and versatility. This breakthrough opens up new possibilities for applications in various sectors, from healthcare to automotive.
PET is known for its excellent strength, chemical resistance, and dimensional stability. It is a polyester fiber widely used in nonwoven fabric due to its durability and recyclability. Commonly used in geotextiles, filtration, and automotive applications, PET spunbond nonwoven fabric provides a reliable and sustainable solution.
RPET is derived from recycled PET bottles, contributing to environmental sustainability. It maintains the strength and durability of PET while reducing the environmental impact. Widely used in eco-friendly packaging, RPET spunbond nonwoven fabric is an ideal choice for companies committed to sustainability.
PLA is a biodegradable and bioactive thermoplastic derived from renewable resources like corn starch or sugarcane. It offers good strength and is compostable. Ideal for single-use applications, PLA spunbond nonwoven fabric finds use in products like disposable medical gowns, hygiene products, and agricultural coverings.
AZX's commitment to providing PET/RPET/PLA spunbond nonwoven fabric production solutions aligns with the growing demand for sustainable and high-performance materials across industries.
In conclusion, AZX's feature in Nonwovens Industry magazine solidifies its position as a global leader in the nonwovens industry. The introduction of dual-component and PET/RPET/PLA spunbond nonwoven fabric production solutions reflects the company's dedication to driving innovation and meeting the evolving needs of diverse industries. As AZX continues to pave the way for advanced nonwoven technology, the impact of their contributions will undoubtedly be felt across various applications, fostering a more sustainable and resilient future.